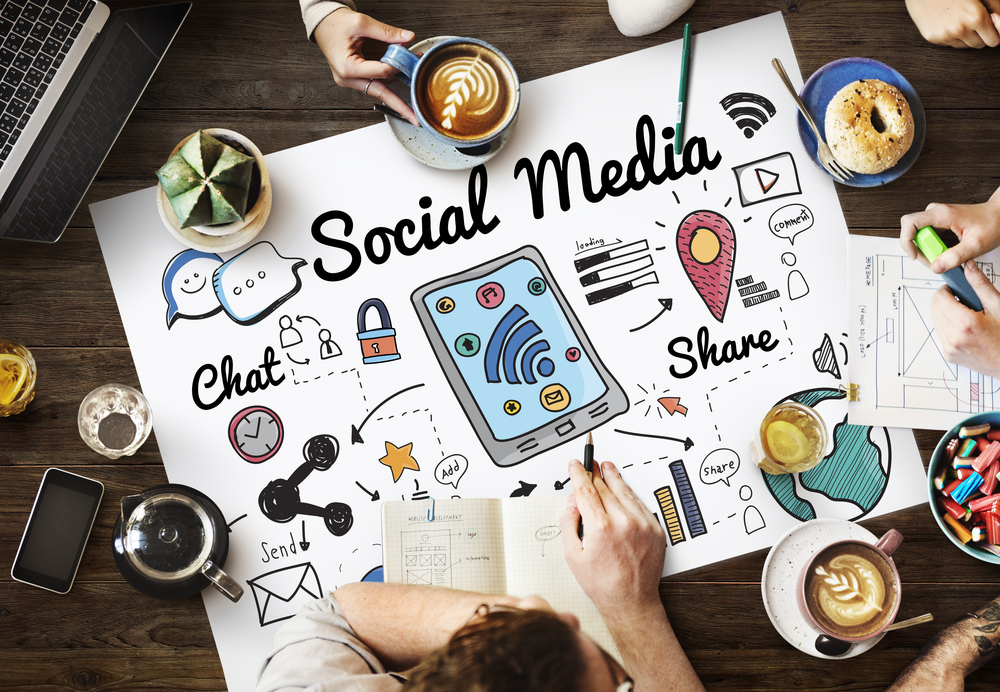 Why You Should Analyse Your Social Media
According to a recent Cefrio's study, 67% of Quebec adults are active on one or many social media, and 82% of 18-24 years old do so using only their smartphone. There's no doubt: investing in social media, wisely, is an excellent way to reach an audience.
Investing yes, but as long as you have the budget! And according to our own experience, few marketing arguments are more convincing than the much talked about Return on Investment (ROI).
When defining your ROI, analysing your social media is key. That means assigning a clear value to each step of the funnel, in order to define the best path to success. You can think of KPIs such as social media engagement, visits generated to your website and sales data. But even when you have the proper KPIs lined-up, what is the best way to analyse them?
Getting a thorough understanding of your performance will allow you to make the right decisions, evaluate and, then adjust your social campaigns in order to optimize your investments. Identify which channels generate the best results and respond as much as possible to the specific needs of your company and personas. This way, you will become smarter over time about your investments, and focus your budget where you generate the most conversions, income and/or brand awareness.
How to analyse social media data?
First of all, you have to keep in mind the importance of having a global vision instead of a silo approach. Analyse the data of all of your company's social media, but also your competitors', whether it's Facebook, Twitter, Instagram, LinkedIn or Pinterest. Try to create as many connections as you can between your Google Analytics' website data and the traffic brought to your site by those external sources. This is where you will gain real insights to analyse.
Your business and marketing goals should be intimately connected to your KPIs. Maybe you wish to strengthen your brand image? Increase your sales? Your brand awareness? Make sure to identify KPIs for each of the goal you wish to measure, in order to track your progress in that direction.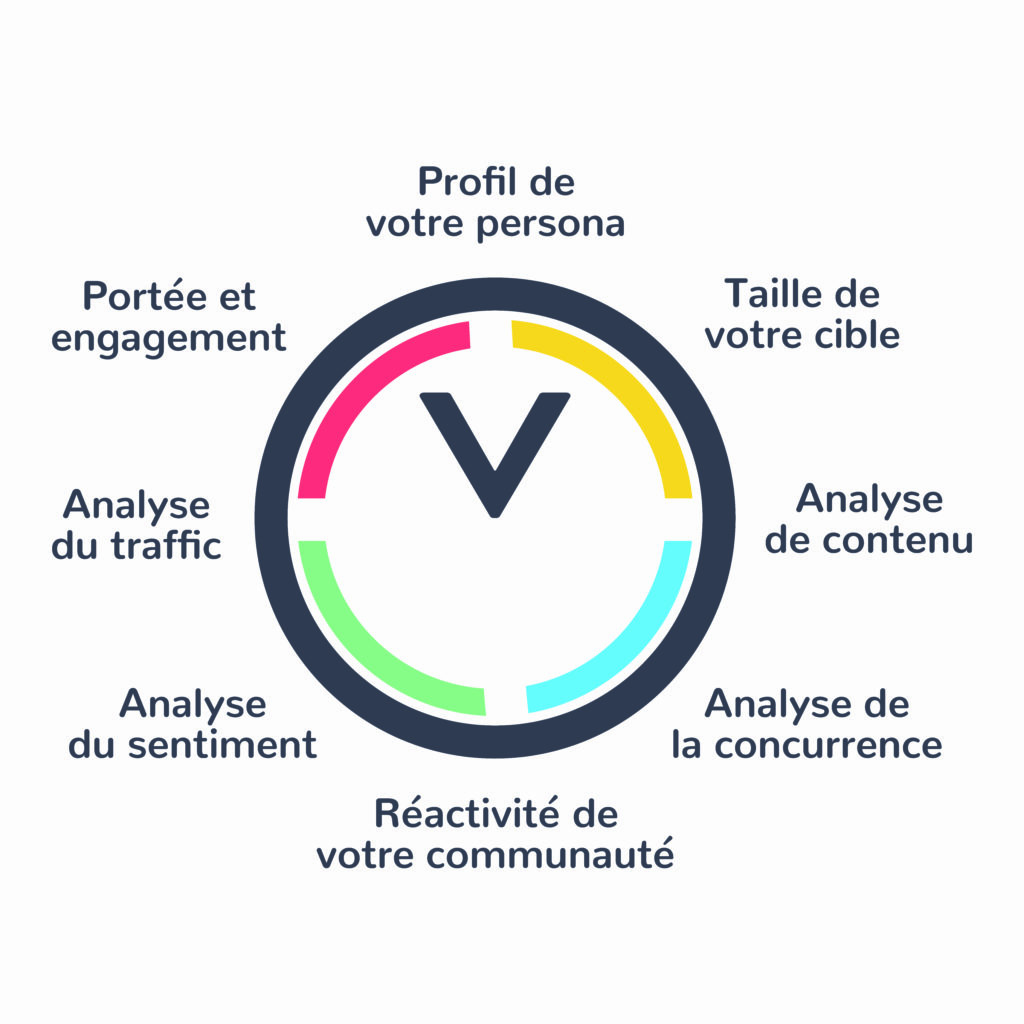 Why is the audience size relevant?
Is your target's size important? Of course, but only if you built a relevant audience.
Usually, your audience will grow slowly, unless you use the right tools and take advantage of paid advertising. There's nothing wrong in investing in audience growth tactics, but you need to have an audience conversion process.In other words, you rarely benefit from just growing your audience; you will often need to push them further down the funnel with additional marketing actions, sometimes through other channels, in order to achieve your marketing goals.
On a monthly basis, evaluate your audience growth and compare it with your competitors'. Also, when possible, try to understand why people from outside your audience are not following you. Whenever possible, try to evaluate the quality of this audience, by looking at their profile and how well they correlated with your brand's persona. Keep on reading for more insights on this!
What's your audience profile?
As your audience grows, you have to make sure you have the right audience profile. Is it consistent with your personas? To be sure, go have a look at my article on personas.
On many social media like Facebook, Instagram and Twitter, you can generate a report that will indicate who are your subscribers (age, sex, interests, jobs, location, etc.).
TIP

On Facebook, you can also create an ad (that you don't necessarily have to put online) with which you target your fans, and then modify it to define your audience profile. For instance, add an interest and see how many of your fans fit in it.
You can also make a survey of subscribers by directly asking them the question – but keep in mind that you won't have a 100% reach, unless you invest some money to boost it.
Is it necessary to analyse reach and engagement?
In short: yes. You want to know what proportion of your audience you are able to reach (organically or through ads), and also how much they interact with your content.
Engagement is a key metric to evaluate the quality of your content. If no one interacts with your content, either it is not appropriate or you don't have the right audience. Having a wide reach is not interesting if no one interacts with the posts.
In an audience, you'll generally have the following categories:
Observers: subscribers who follow your content, but never interact. They normally make up the greatest number of your audience.

Influencers: people who have access to a wider audience and have a strong potential to influence other audience members.

Engaged: the more active ones in your community (you will quickly get to know them).
Why and how to analyse your social media content?
Creating and sharing content is an expensive task, and therefore we highly recommend to do it on a regular basis, so you become very smart and strategic about it.
What's better for your target: videos, photos or articles? Do you have the right mix of content? And what about engagement? The only way to know is to dig into your social media analytics.
Most social media have their own built-in analytics tool, like Facebook Insights, Instagram, Twitter Analytics and LinkedIn Reporting. That way, you can download the reports and analyse them.
Also, be aware of regular changes of algorithm on the different platforms, and try to understand how these changes impact your content.
For example, the most recent changes to Facebook algorithm have greatly reduced organic reaches for business pages, whereas personal accounts and groups have grown. In this way, advertisers must strive to create relevant and engaging content, if they want to appear on the very well coveted news feed.
Why measure your community's reactivity?
If you don't answer to your community, people will stop interacting with you as well. It's even more important if you use your social media as a channel for your customer service. It's generally recommended to build a map where you can clearly see where are your touch points with your community. That way, you can organise and optimise how you interact with all your fans, on various platforms.
Subscribers expect an almost instant answer on social media, the same way they do on any other communication channels (emails, phone calls, etc.). Long response times are badly perceived and can be damaging for your brand. You should take this reality seriously, and make sure it is reflected in your allocated budget for customer service.
It's also relevant to measure your monthly performance on different metrics, like response rate and time, as well as satisfaction rate.
Why analyse the competitors?
Your competitors probably learn from you, so don't be shy to do the same! You can take some inspiration from what works, what gets crowds up, but still keep in mind that you have to adapt the content to your audience.
Compare your account to your competitors'. What are their statistics on engagement, their audience profiles, their growth, etc.?
This active monitoring will give you some inspiration for content to share and will also prevent you for making basic mistakes!
Why spend time doing opinion mining?
Here, you'll analyse positive, negative and neutral mentions on your brand, product or service. For a complete opinion mining, you have to use a social media management platform, like Hootsuite, for instance.
With opinion mining tools, you'll get to know both your brand and your audience better. They are also very useful for crisis management; you'll know when the overall opinion is back to normal.
Social media analysis is an art, a science… and mostly, an ongoing process that needs time and attention.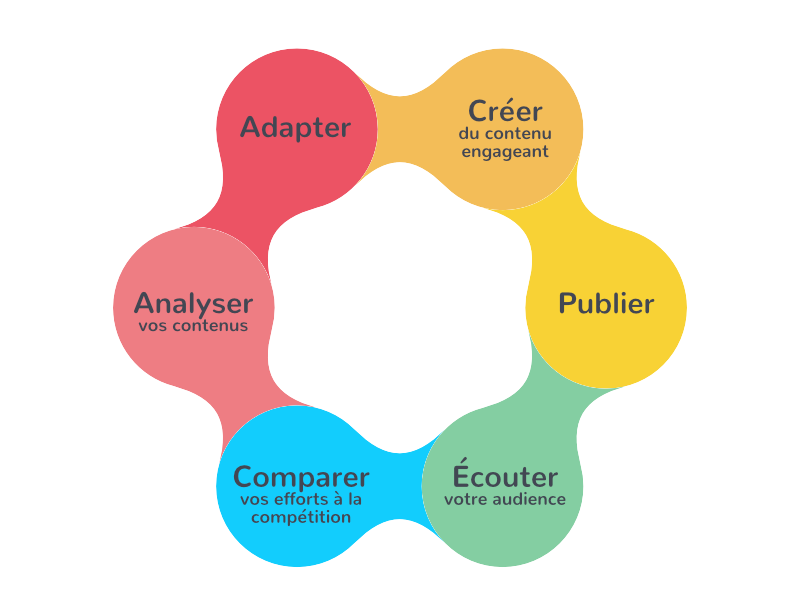 But, with a little rigour, this analysis will allow you to understand your audience at your fingertips, and get very smart about the way you handle your social media efforts! Then, you'll be able to create content to please, appeal, engage and ultimately meet your business goals.
Happy analyzing!