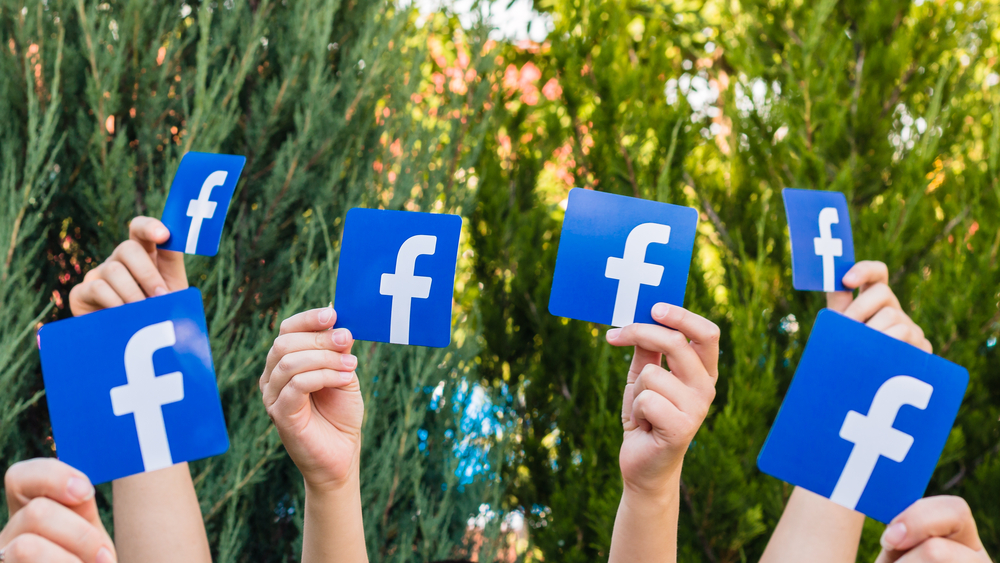 10 Ways to Outsmart the Facebook Algorithm
Whether you are a community manager or just a page administrator, you have most likely noticed that, over the past few months, your Facebook statistics have changed dramatically.
That's the latest Zuckerberg's algorithm.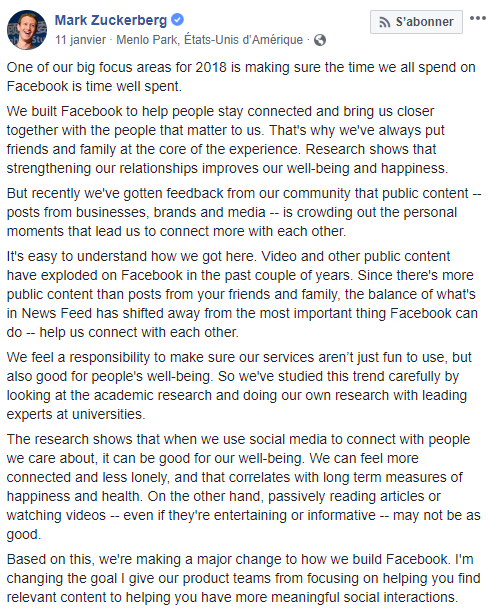 In fact, this algorithm aims to prioritize interactions between friends and family, rather than those with business pages. As a result, the reach of business posts has decreased, just like the engagement rate.
But how exactly does the Facebook algorithm work?
Basically, the algorithm is a mathematical formula used to predict the content that will be considered relevant for every Facebook user. It is estimated that about 100,000 different parameters are used in the calculation, so determining the ins and outs is a complex task.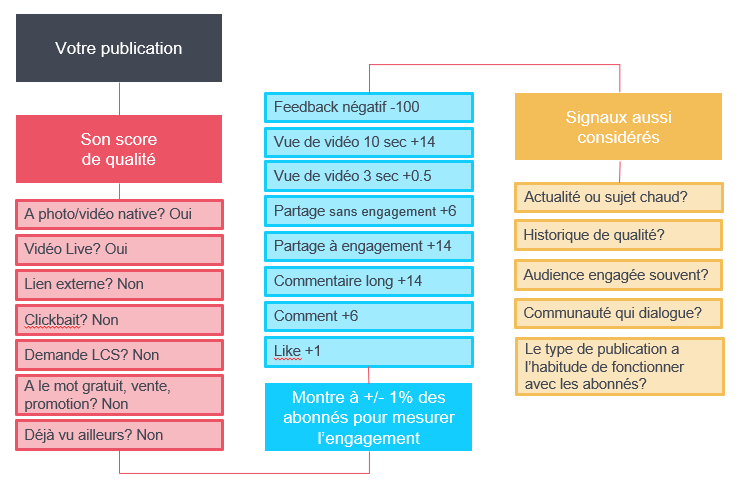 To be able to make predictions, the algorithm needs signals that give it clues about what a user might like. To illustrate it, ask yourself what you do when you have to order for someone at the restaurant.
Step 1: You look at the menu.
→ the algorithm looks at the inventory of posts, i.e. everything that has been published by friends and pages followed by the user in a short interval of time.
Step 2: You consider the context (is it breakfast or dinner?).
→ the algorithm analyzes the context (keywords used, news, time of day).
Step 3: You predict tastes based on that person's previous choices (does he/she hate fish?).
→ the algorithm takes into account everything the user likes, comments, shares, clicks, but also the time spent on web pages and messages sent on Messenger.
Step 4: You order for this person.
→ the algorithm gives a relevance score to the contents and thus chooses what the user will see in his news feed.
It is rather simplistic, and obviously this metaphor is to be taken with a grain of salt, but it still gives a general idea of how this community management troublemaker works.
Once we understand a little better how it works, let's see how the business pages can adjust.
1. Stop the "engagement bait"
The algorithm scans the terms used in the posts and disadvantages those who use these practices considered abusive:
Vote baiting: "Vote for your favorite design!"
React baiting: "Like if you're beach type, Love if you're mountain type"
Share baiting: "Share with 10 friends to enter the contest!"
Tag baiting: "Tag your hungover friend"
Comment baiting: "Say YES in comment if you agree!"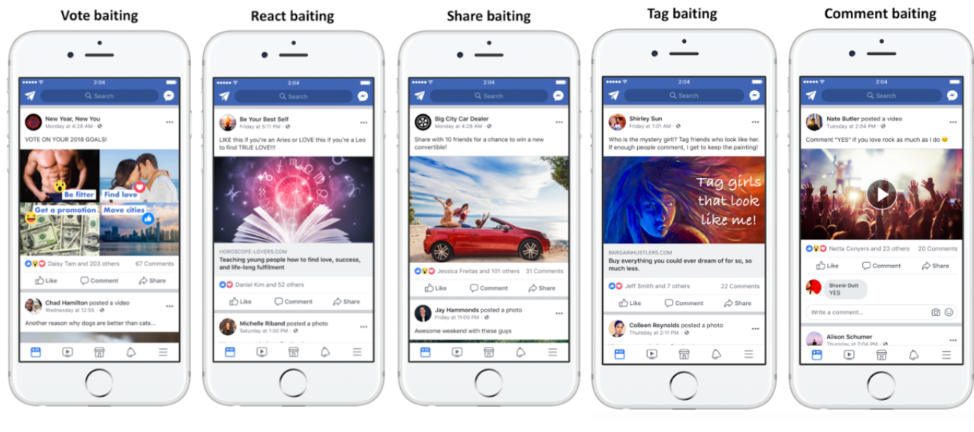 In fact, when Facebook detects one of these types of false undertakings, it will penalize the reach of the post, but also the page in general.
That's why the next point is very important.
2. Be smarter than Facebook's AI
Now that we know that we must not invite people to take action on posts, how can we encourage engagement?
You have to be smart. At least, more than the Facebook algorithm.
And for that, we must use ingenious methods to achieve our ends. That is, not explicitly telling people to love, share, comment, etc.
To encourage people to love publishing, we can say something like "Give us love!". Instead of "Share", you can prioritize sentences such as "Let your friends know". Instead of asking for comments, we can say "Tell us".
In short, your resourcefulness and inventiveness are required.
As a general rule, to receive engagement, it is recommended to create posts that ask questions to the subscribers, but without using terms that overly incite them to like, react, comment or share.
3. Lead the discussion
The algorithm wishes to promote posts that generate discussions between users. That is why, as a page, it is essential not only to create posts that naturally create a conversation, but also to take part in it.
When your subscribers comment, you have to answer them, ask more questions, raise them again.
It's a simple way to improve your reach, while humanizing the business you represent. If they feel their comment is being heard by another human, subscribers are more likely to appreciate the brand.
4. Post what you would share
In this latest Facebook algorithm, shares come right after comments, in terms of valuation. And by sharings, we mean not only those who are public but also those who are private (in Messenger).
Facebook puts a lot of emphasis on this action when it classifies posts.
It is therefore better to create content for subscribers and not for your brand. This way, if your posts arouse emotion in people, they will be more inclined to interact.
Who shares and why?
It doesn't make sense to get into ideas without thinking about your target audience first. You need to understand your subscribers' behaviour in order to create posts that will comply with it.
According to an article in Column Five, there are six types of behaviour on social media:
Altruists

: those who share quality content with the ones they love. For them, sharing is a gesture of affection.

Careerists

: for them, it's all about personal and professional networking. They like to share content that brings people together.

Hipsters

: for this group, sharing is always linked to strengthening their identity. They like to be the first to share posts that generate discussion, whether controversial or not.

Boomerangs

: everything here is about Likes. They share to get reactions, whether it's comments or likes. They also like to be the first to share.

Connectors

: those who share to strengthen the sense of community, especially entertaining content. They share anything that brings people together or creates experiences, such as coupons, discounts or events.

Selectives

: the most reluctant group to share. They only do it when they believe it is relevant to someone, that that person has not already seen it. Moreover, they expect a reaction and an appreciation from the recipient.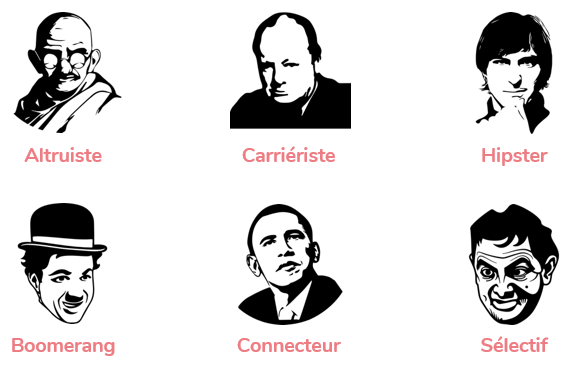 5. Put the "WIIFM" on the first line
Before you write your post, always ask yourself: "What's in it for me?"
You have to ask yourself why the reader would be interested in your post, what is the heart of the matter.
And when you have found it, make it clear from the first words of your post. Attention time is short, so keep it short!
6. Create with influencers
To become known in a new market, one can also use the notoriety and trust that influencers have built up in their respective networks. We have to choose which communities and networks we want to work with. The importance of the fit cannot be overstated.
The content created with influencers at this stage should have the function to entertain, to make people want to know more about your brand.
7. Respect the 20% rule
This is very important when sponsoring posts, your visual should not contain more than 20% text. Create visuals that are simple, appealing, and evocative enough to go without words.
Otherwise, even if you put money on a post, Facebook will greatly reduce your reach. That's what we call throwing money out the window!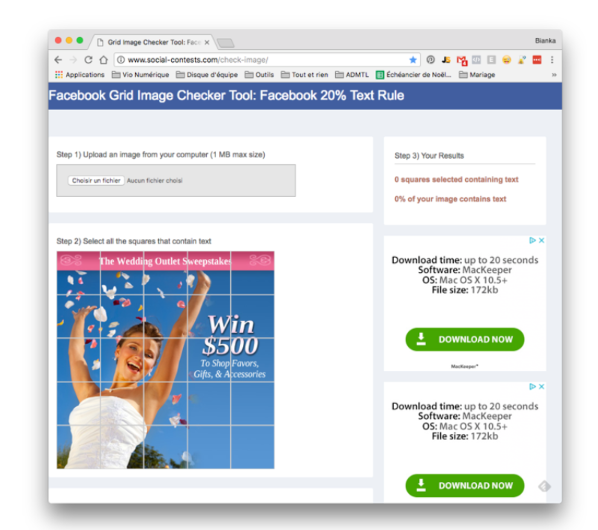 8. Take care of your image
Images influence emotions.
The quality of your photos and videos is therefore essential to create a favorable perception. If it's obvious in social media like Instagram and Pinterest, developing your own aesthetic on Facebook is also the most effective way to get noticed, but also to be appreciated.
On social media, you are in seduction mode. Present yourself in the best light!
9. Set up your catalogue
You can now import into Facebook your product catalogue (a list that includes all the products you want to promote).
In addition to facilitating your customers' shopping experience, it also allows you to redirect targeted traffic to the right pages of your website.
So, if your catalogue is up to date, you can promote your products, without necessarily making posts.
10. Invite people to like your page
When you post something and people who don't like your page react to the publication, you can invite them to like your page.
It's a feature that can be very interesting to expand your audience, without having to pay anything.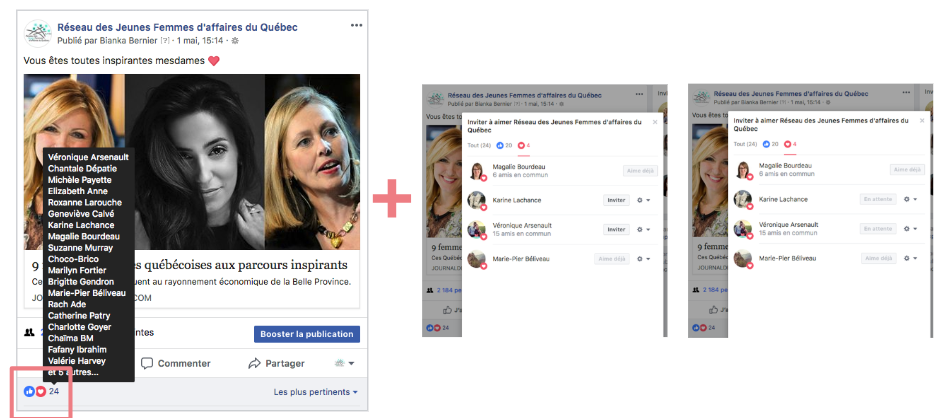 —
The best way to outsmart the algorithm is not to rely exclusively on it in your marketing strategy. You also have to think about your personas and where they are in the buyer's journey. Social media have a role to play, but is not a miracle cure for all your communication challenges.
In the end, the goal is to be meaningful to your audience on the right platform at the right time.