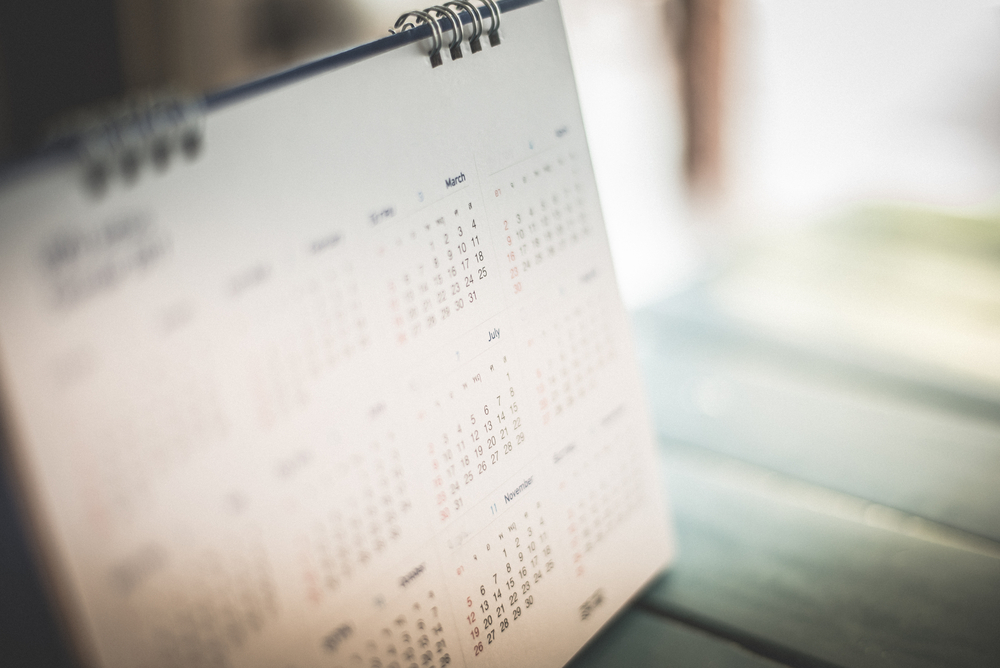 Editorial Calendar: How to Create the Perfect Tool
You are a community manager and create content on a daily basis? You are very creative and your ideas fly thick and fast? Your posts are starting to pile up and your mind is getting confused? You need an editorial calendar.
It is the essential tool to plan, to have an overview of your posts, to anticipate the off-peak periods, to organize your thoughts and to identify a common thread.
Here's how you can create an editorial calendar that reflects your brand values and really serves you.
What information should be included in an editorial calendar?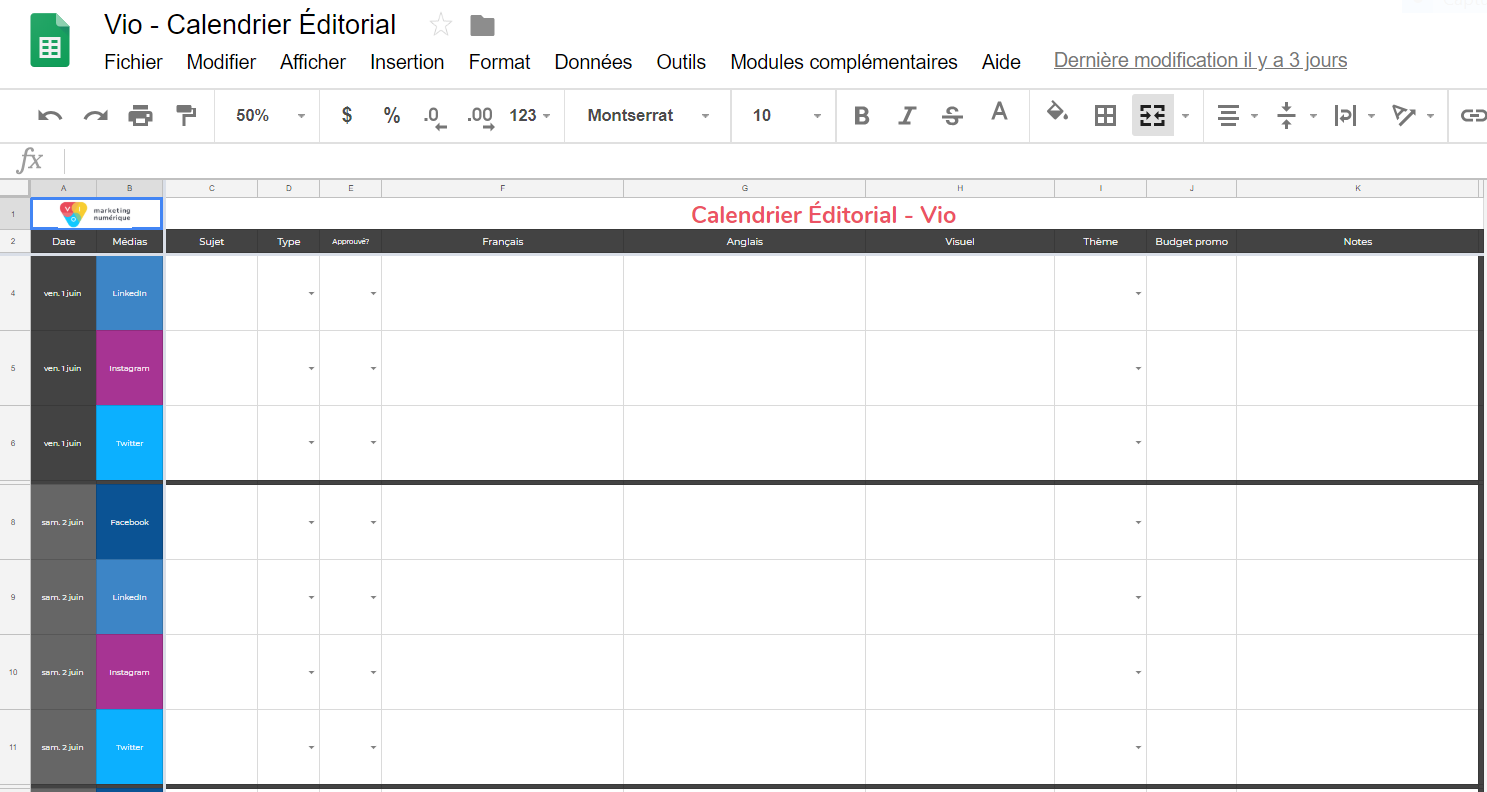 1. The platforms concerned
It's not rocket science, if you want to have an editorial calendar that reflects your needs, you need to determine in advance which social media you will post on. Could it be Facebook, Instagram, Twitter, LinkedIn? It's up to you to look at your goals related to your content strategy.
It is not necessary to be present on all platforms, but rather to choose those that allow you to reach your target. It is better to reduce the number of platforms and be excessively relevant on each of them, than to multiply the channels and have a rambling speech.
Here, quality is more important than quantity.
2. Themes and topics
One of the reasons why an editorial calendar is practical is that it allows to divide contents by themes and to distribute them in time.
Let me explain: let's say you have a company that sells outdoor equipment and you want to promote it on social media. Your product range is diverse: tents, shoes, backpacks, etc. In order to make your social media dynamic and to cover all your items, you need to vary your posts; once a month you talk about shoes, twice a month about tents, etc. As simple as that!
If you create your editorial calendar on a monthly basis, you will have a global portrait of your themes. Do you talk enough about tents? Too many backpacks? Does it respect seasonality or your special offers?
3. Types of content
Social media is ruthless. Your content must always be catchy, coherent, ingenious and stimulating. Otherwise, you will sink into the pernicious meanders of algorithms (I exaggerate, but you understand the concept).
You must therefore vary the types of content: photos, videos, quotes, surveys, infographics, events, articles, quizzes, games. Name it. It takes all kinds.
TIP

Out of ideas? Don't forget world events, news, trends, international days, seasons, annual festivals!
And to make sure your content is diverse, the editorial calendar is (again) your best friend.
Simply because by planning your month in advance, you can spread your content types here and there. Saturday's for games? Perfect. On Monday we share a picture of a subscriber on Instagram? Great. Every other Wednesday we do a survey? Sounds good.
Obviously, the types of content, like the content itself, must reflect a broader marketing strategy. No need to post games if your audience is not interested in it and therefore your ROI will be zero.
4. The text
This is the body of the post itself. "Duh", you might think.
You write on LinkedIn, think of a more corpo tone. You share on Facebook, be more concise. You post on Instagram, don't forget hashtags.
In short, in your editorial calendar you must find the exact words that will be shared. Also indicate the translation(s), if applicable.
5. The visual
We can never repeat it enough: images influence emotions.
Even if you've written the most interesting article in the world on your blog, but when you share it on Facebook, the image that appears is filthy; no one will be tempted to click.
So, always keep a box in your editorial calendar for the visual of your posts.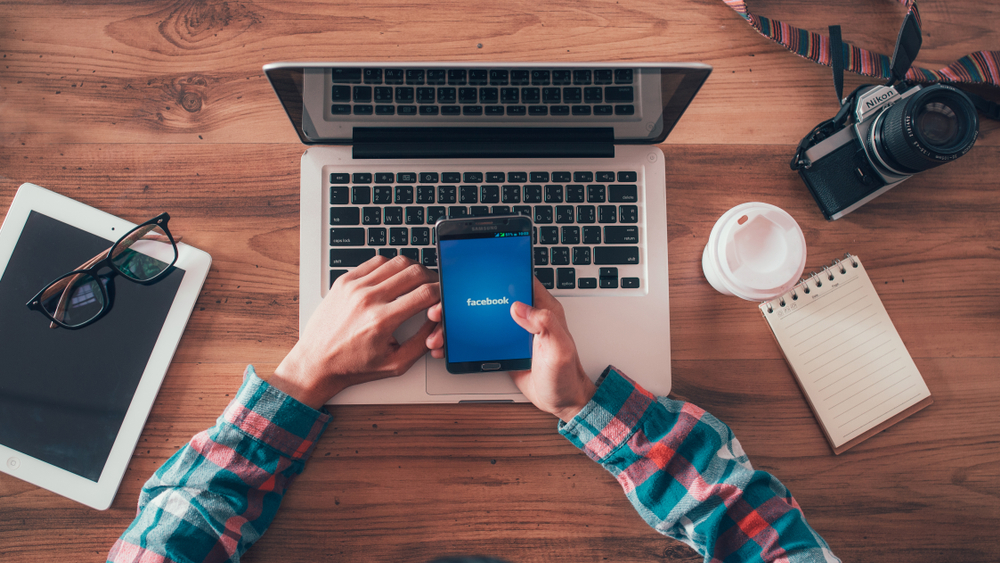 6. Other
Dates: Hello,

Captain Obvious

.

Authors: Only if your content creation team includes several people. It lets you know who to contact if you need changes or clarifications.
Budgets: If you want to promote certain posts.
Notes: Allocate space for clarifications, comments or questions that may be related to posts.
How to create the editorial calendar?
Now that you know what an editorial calendar should include, you need to know how to make it technically.
You can still use platforms like Trello or CoSchedule, which are actually online project management tools. But at Vio, we prefer to create it from A to Z, with Google Sheets.
And by the way, we offer it to you, in Excel format!
To download it, click HERE.
And then what?
Having a gleaming editorial calendar isn't all. Yes it is an extraordinary planning tool, but it must also be a basis for optimizing your content. Since it allows you to see all your posts on all platforms, you must use it as a starting point to evaluate performance and make corrections, if necessary.
By analyzing the performance of your posts, you can know which themes and types of content are more or less popular. Do blog posts bring in a lot of traffic? Plan more. There is no interaction with the GIF? Blow them up. Photos work as well on Facebook as Instagram? Share them on both platforms.
Your editorial calendar must evolve with your content strategy. And it is an ongoing process.
By having a calendar that follows the pre-established editorial line and answers the defined goals, the quality and the relevance of your contents will then be assured.